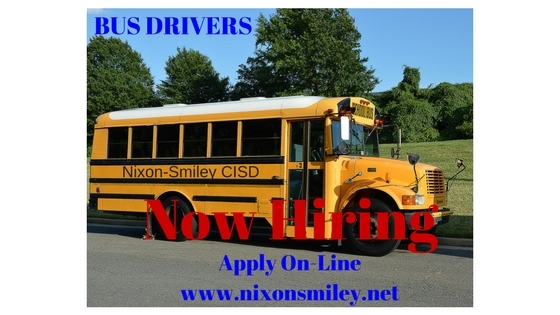 Bus Drivers
Chris Tassos
Wednesday, September 13, 2017
NSCISD is now hiring bus drivers. $15.20-$15.96 per hour. Apply on-line at www.nixonsmiley.net.
Job Requirements:
Minimum Certification/Education: (A) Must have a valid chauffeur's license. Complete a twenty hour approved school bus driver certification class plus an eight hour re-certification class every three years, and hold a valid Texas bus driver's license. Have an approved driving record. (B) Physical demands: Must pass an annual physical examination. Perform occasional physical labor. (C) Minimum experience: Be a minimum of 19 years of age. Experience working with students desired. (D) Other: Such alternatives to the above qualifications as the board may deem appropriate and acceptable.
Application Steps:
1. Complete the web based Electronic Application
2. Provide a copy of GED, H.S. Diploma or College Transcript
3. Provide proof of Identity (Driver's Lic., Birth Certificate, Passport or other Federal Documents)
4. Print, complete, sign and return in person or via mail the DPS Computerized Criminal History (CCH) Verification Form (See "CCH Verification Form" on the "Employee Quick Forms" page) to: N-S CISD Human Resources Dept. P.O. Box 400, Nixon TX 78140.
5. Complete all state adopted training to meet standards in: Sexual harassment, reporting of abuse, neglect, or exploitation of students, student health and safety, behavior management and safety procedures, and any other training as required under TEC 37.008. (Provided by N-S C.I.S.D. staff prior to employment).
6. If required, submit to a fingerprint based background check.