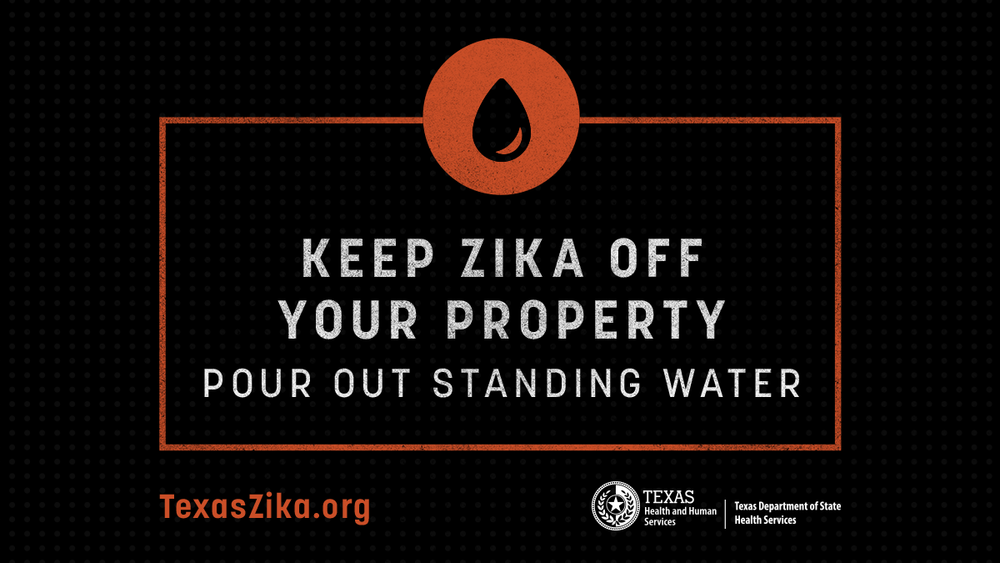 How to Spot and Treat Zika Symptoms
Texas Department of State Health Services
Monday, June 11, 2018
You may have a lot of questions about how to tell if you have the Zika virus. The most common Zika symptoms are fever, rash, joint pain and
conjunctivitis (red eyes). While some may not feel sick, others experience mild and flu-like symptoms lasting a few days to a week.
There is no specific medicine or vaccine for the Zika virus. If a person is infected, they should first contact their doctor about the best treatments
for their symptoms. Possible treatments include plenty of rest and drinking a lot of fluids to feel better. Once the virus leaves a person's body,
they should continue to follow Zika prevention precautions such as using EPA-approved insect repellent. The virus usually remains in the blood
for about a week and spreads mainly through mosquito bites, so the more prevention steps you take, the better protected your family and
community will be.
Learn more at TexasZika.org or follow @TexasDSHS on Facebook and Twitter.
Posiblemente tengas muchas preguntas sobre cómo saber si has contraído el virus del Zika. Los síntomas más comunes del Zika son fiebre,
sarpullido, dolor en las articulaciones y conjuntivitis (ojos rojos). Algunas personas no se sentirán enfermas, pero otras tendrán síntomas leves y
similares a los de la gripe que pueden durar pocos días o una semana.
No hay medicamentos o vacunas específicos para el virus del Zika. Si la persona está infectada, debe en primer lugar ponerse en contacto con tu
médico para determinar cuáles son los mejores tratamientos para los síntomas. Algunos de los tratamientos posibles incluyen guardar mucho
reposo y beber abundantes líquidos para sentirse mejor. Una vez que el virus ya no se encuentre presente en el cuerpo de la persona infectada,
esta deberá seguir tomando las medidas de prevención contra el Zika como, por ejemplo, el uso de un repelente contra insectos aprobado por la
EPA. El virus generalmente permanece en la sangre durante alrededor de una semana y se propaga principalmente mediante la picadura del
mosquito. Por eso, cuantas más sean las medidas de precaución que tomes, mejor estará protegida tu familia y tu comunidad.
Para obtener más información, visita TexasZika.org o síguenos en @TexasDSHS en Facebook y Twitter.