Nixon-Smiley Junior FFA Membership Deadline! Oct. 1st!!! Next Meeting at the Nixon Community Center On Mon. Sept. 26th | 6:30p - 7:30p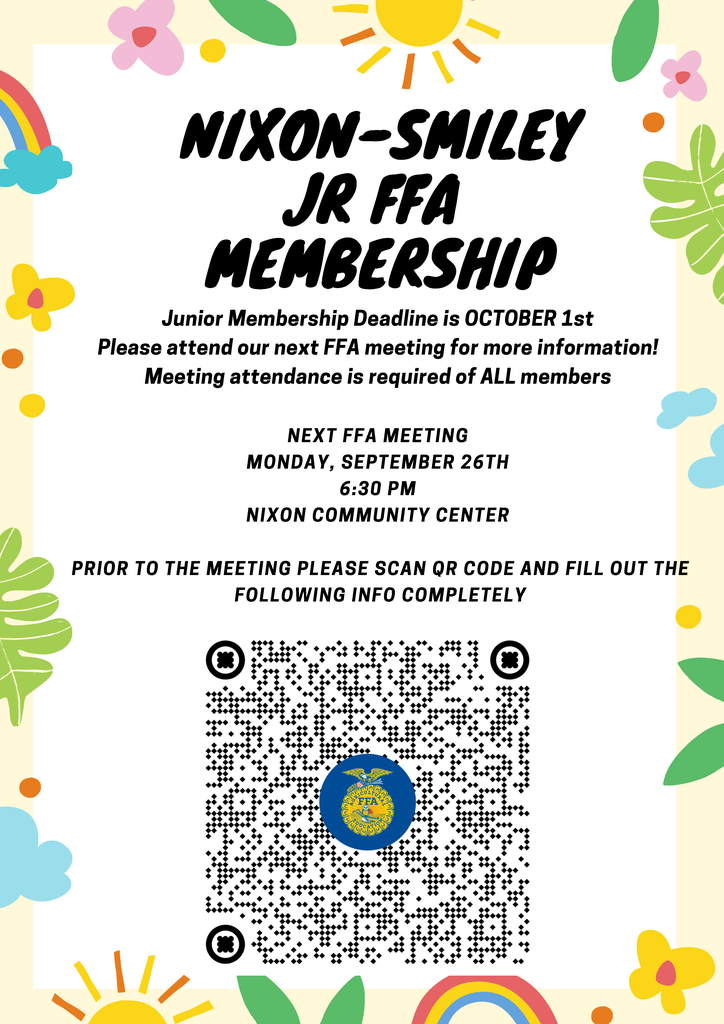 Nixon-Smiley FFA Meeting At the Nixon Community Center Mon. Sept. 26th | 6:30p - 7:30p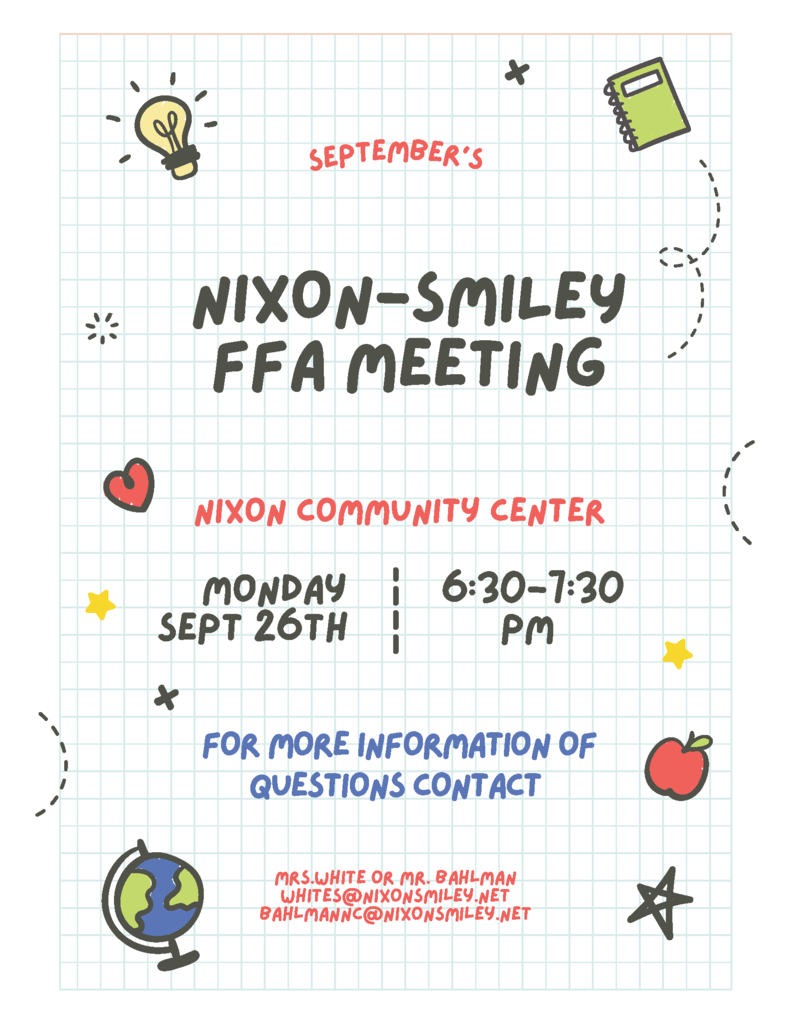 There have been changes to this Thursday's scheduled football games: * 7th grade will play Yorktown at Mustang stadium at 5pm. * 8th grade will play Flatonia in Flatonia at 5pm. * JV will play Flatonia in Flatonia following the 8th grade game at 6:15pm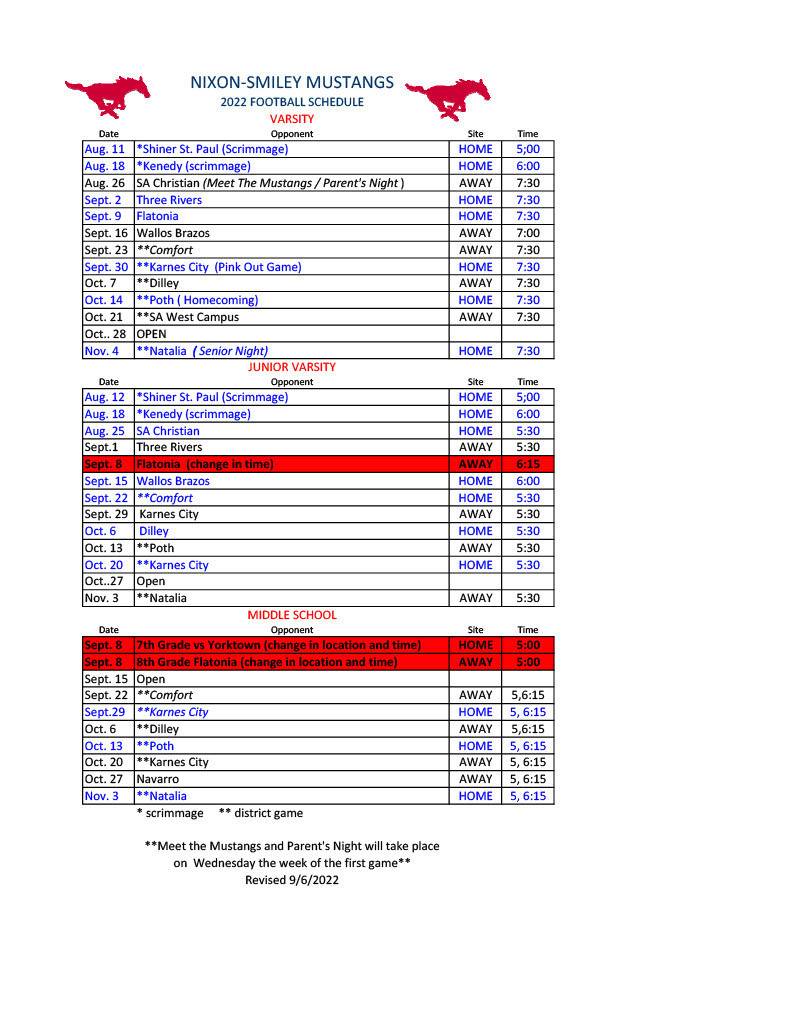 Help us support Uvalde ISD as they return to school on Tuesday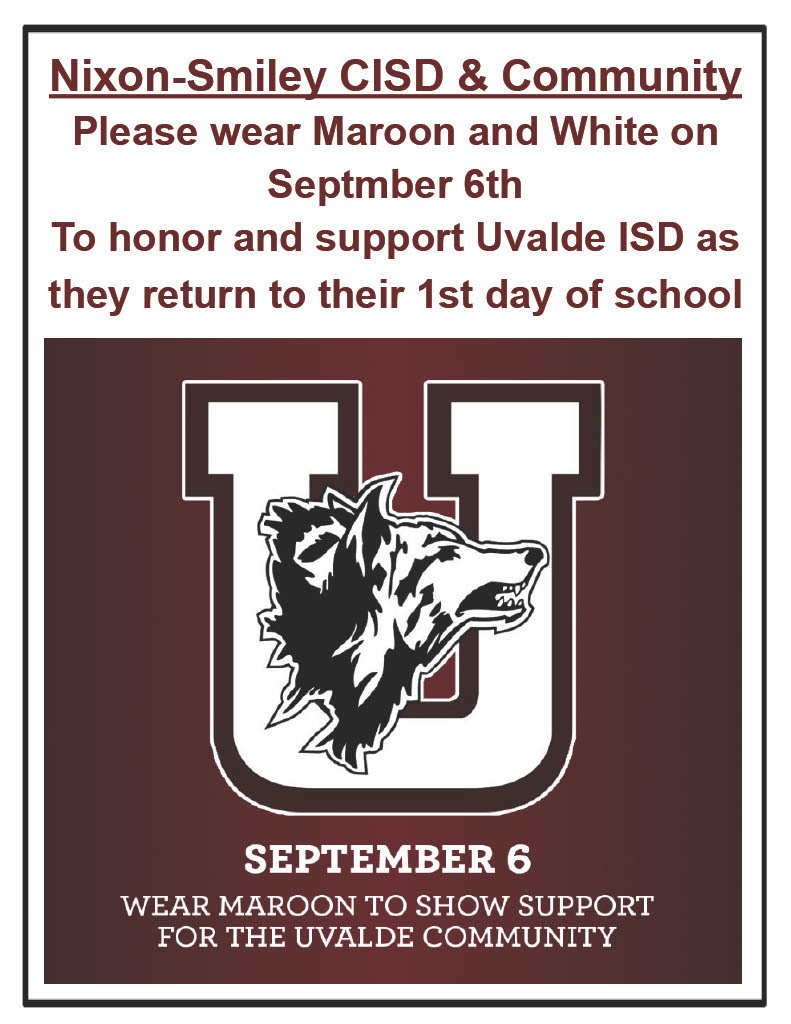 MIDDLE SCHOOL FOOTBALL GAME The middle school football games scheduled for next Thursday (Sept. 8th - originally scheduled at Nixon) have been moved to Flatonia. ONLY the 8TH GRADE TEAM will play due to the fact that Flatonia only has (1) middle school team. The 8th grade will play at 5pm followed by the JV at 6:15. Our apologies for any inconvenience this may have caused.
Nixon campus library announces after-school hours for MS and HS students. Tues. & Wed. 4:00pm - 7:00pm. See attached image for the full schedule.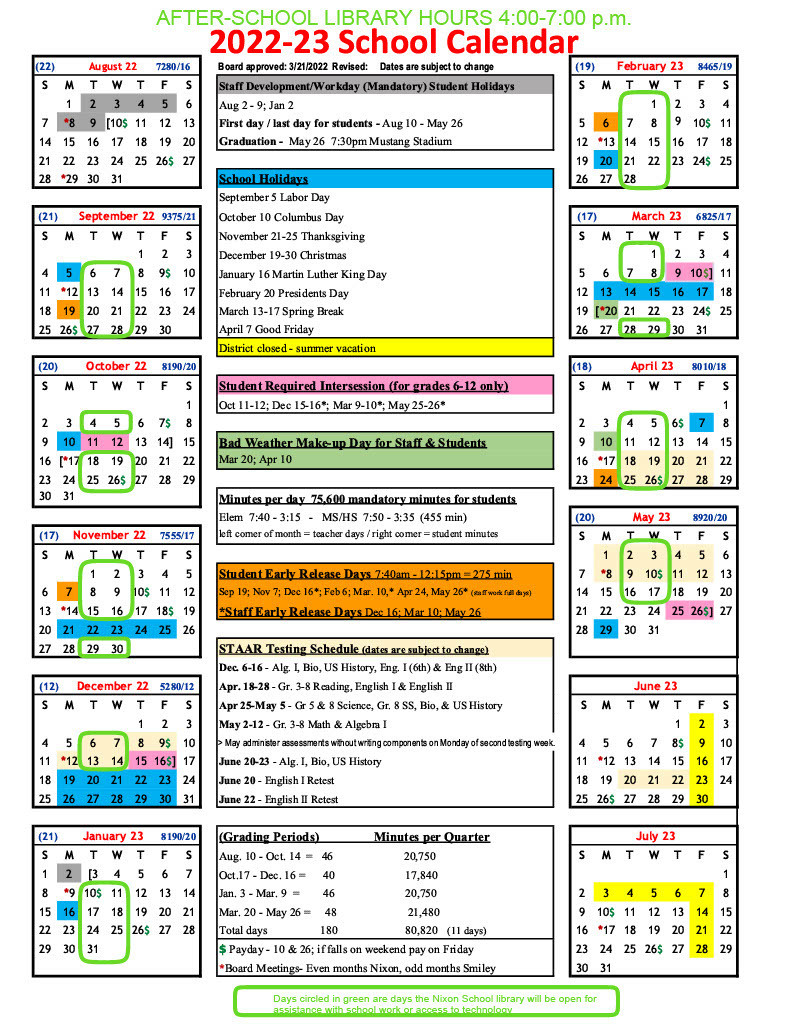 Are you interested in FFA? Do you have a child that is at least 8 years old and in 3rd grade? Check out these FFA flyers for details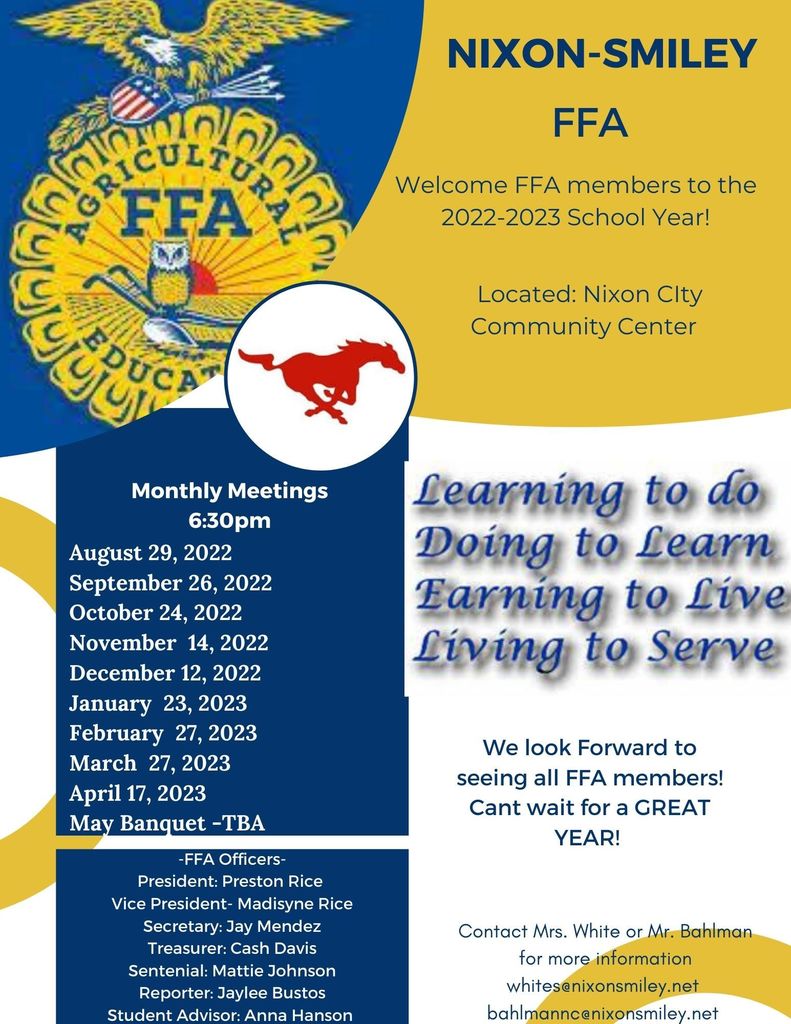 Time change: The football game at San Antonio Christian next week will start at 7:00pm NOT 7:30
Buy your All Sports Pass at Central Office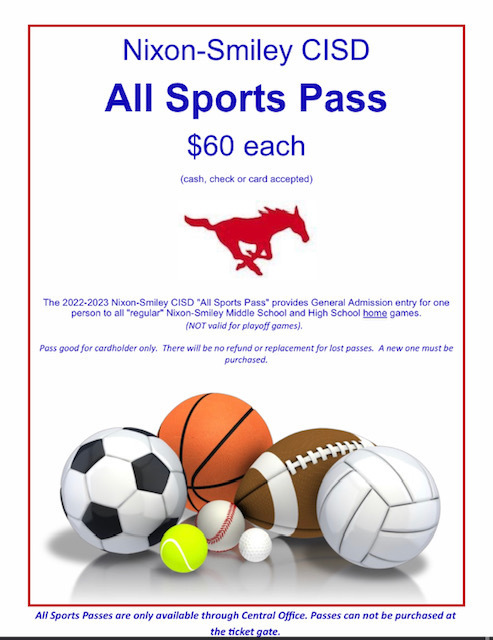 ROOMS Communication Coming Soon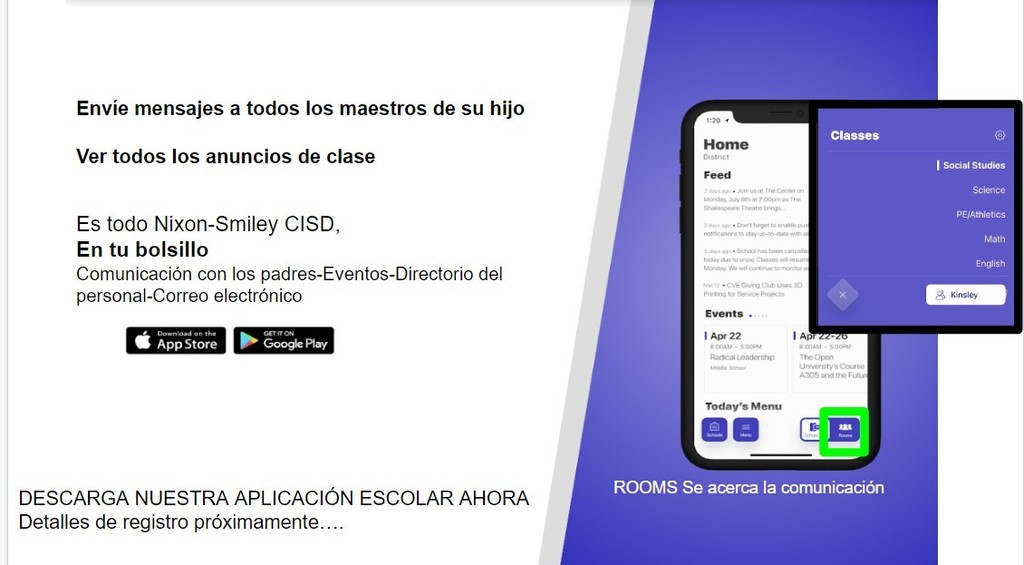 Nixon-Smiley Families, today and tomorrow we have in person registration at the Nixon MS/HS Cafeteria. Today (26th) the registration is from 8-3 and tomorrow (27th) is from 10:30-5:30. If you are new to the district or need help registering, please come by the cafeteria today or tomorrow.
Over the last few weeks students and parents may have seen what looked like student schedules on Google or Ascender. We apologize for the confusion but these schedules are not accurate student schedules. Campuses are still in the process of creating classes and placing students in those classes. Student schedules will be finalized and distributed at Meet the Teacher for all students registered before July 28. Meet the Teacher August 8th Elementary 4:00-5:30 Middle/High School 5:00-6:30

"DUAL CREDIT: Students and Parents you are taking or considering taking dual credit at any point during this school year, you must attend a dual credit informational meeting. This meeting is virtual and will be conducted with Robert Proctor from Victoria College. Please click on the link on Wednesday, July 20, 2022, at 4 pm. The meeting should last about 30 minutes with an opportunity for questions immediately following the presentation. The link for the meeting is below and will open shortly before 4 pm.
https://victoriacollege.webex.com/meet/robert.proctor


Softball playoff information: Game 1 Thursday @ 6 pm at Kyle Lehman High School vs. Lago Vista Game 2 Friday @ 5 pm at Kyle Lehman High School vs. Lago Vista Game 3 Friday 30 minutes after game 2 if necessary



Middle School Track Update: All field events and the 2400 have been canceled. All other running events will begin at 3:45