ROOMS Communication Coming Soon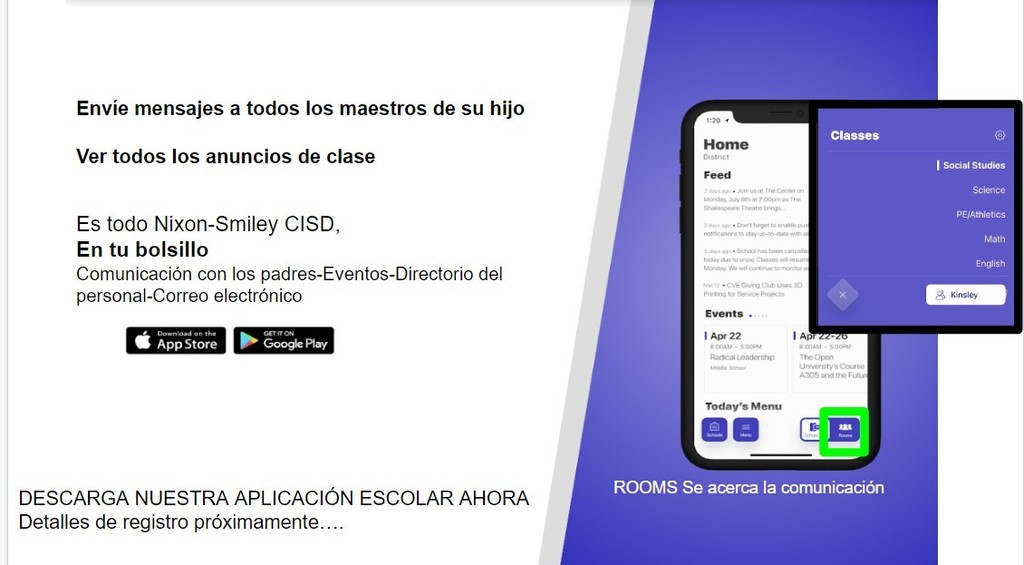 Nixon-Smiley Families, today and tomorrow we have in person registration at the Nixon MS/HS Cafeteria. Today (26th) the registration is from 8-3 and tomorrow (27th) is from 10:30-5:30. If you are new to the district or need help registering, please come by the cafeteria today or tomorrow.
Over the last few weeks students and parents may have seen what looked like student schedules on Google or Ascender. We apologize for the confusion but these schedules are not accurate student schedules. Campuses are still in the process of creating classes and placing students in those classes. Student schedules will be finalized and distributed at Meet the Teacher for all students registered before July 28. Meet the Teacher August 8th Elementary 4:00-5:30 Middle/High School 5:00-6:30

"DUAL CREDIT: Students and Parents you are taking or considering taking dual credit at any point during this school year, you must attend a dual credit informational meeting. This meeting is virtual and will be conducted with Robert Proctor from Victoria College. Please click on the link on Wednesday, July 20, 2022, at 4 pm. The meeting should last about 30 minutes with an opportunity for questions immediately following the presentation. The link for the meeting is below and will open shortly before 4 pm.
https://victoriacollege.webex.com/meet/robert.proctor


Softball playoff information: Game 1 Thursday @ 6 pm at Kyle Lehman High School vs. Lago Vista Game 2 Friday @ 5 pm at Kyle Lehman High School vs. Lago Vista Game 3 Friday 30 minutes after game 2 if necessary



Middle School Track Update: All field events and the 2400 have been canceled. All other running events will begin at 3:45



The Middle School Track Meet in Navarro tomorrow has been canceled.

Due to current weather conditions, the softball games scheduled for today have been cancelled. The softball tournament is scheduled to resume tomorrow. The track meet for today has been postponed as well. Hopefully, it can be rescheduled at a later date!

Here is the link to purchase tickets for the Lady Mustang Basketball 2nd round playoff game on Friday, 2/18. Please be sure to purchase the correct tickets because they are hosting multiple games this week. Go Mustangs!!
https://www.seguin.k12.tx.us/page/athletics.tickets


Boys Basketball vs Cole: Based on the current COVID-19 conditions, we have been informed by the JBSA Commander, BG Caroline Miller that we must return to mandatory mask wear while inside all DoD facilities to include all school facilities within FSHISD. Please understand that these are difficult times, and we are trying to do our best to ensure the safety of everyone involved. In accordance with Covid-19 procedures, we ask that anyone not actively participating in play, wear a mask. This includes on the bench and in the stands. Please inform your fans that this is a mandate form the JBSA Commander and a requirement while on the base. Below you will also find the link to ticket sales and the school address. All vehicles will be required to have a valid state registration sticker and occupants will be required to show ID or they will not be allowed on base. Gate guards are aware that people will be coming to watch the games. Address: 4001 Winans Rd., San Antonio, TX 78234 Tickets Sales:
https://fshisd.hometownticketing.com/embed/all

Nixon-Smiley Families, Our campuses will not accept any deliveries for Valentine's Day. Please do not send flowers, candy, gifts, etc.​ Thank you for helping ensure the safety and security of our students.

The next NSCISD Substitute Training is on Wednesday, March 9, 2022, from 9 am - 12 pm at La Casita (white house across from the HS). Interested applicants should complete the online substitute application before the training. Make sure to bring your ID, Social Security card, and any other documents you might have (transcripts or certificates) to the training.

Due to a change in some weather forecasts for the safety of our staff and students NSCISD is cancelling classes for Thursday, February 3rd.