All extracurricular activities (games and practices) are suspended until school resumes on Monday(22nd). Take care and stay safe.

Nixon-Smiley CISD will remain closed on Friday, February 19th. We hope this will allow our community and staff members a day to make repairs and dig out of this mess. Both the Nixon and Smiley cafeterias will be providing tacos to go for children ages 1-18 from 11:30am-1:00pm. on Friday. We hope this helps!

Due to continued issues with water and electricity around our community, plus anticipated freezing rain tonight and tomorrow, Nixon-Smiley CISD will remain closed Thursday, February 18th.

Due to continued power outages and the threat of more ice/sleet tonight, NSCISD will not have school on Wednesday. We will continue monitoring the situation and send out updates as we have them. We are all anxious to get back to school but student/staff safety will continue being our top priority.

IMPORTANT ANNOUNCEMENT There will be no school tomorrow, February 16th, due to the weather. We will make a decision about Wednesday as the weather report becomes more decisive, probably some time tomorrow. Please continue to watch this page for updates.

The Lady Mustangs game tonight in Floresville has been moved to 5pm. The Lady Mustangs will be playing Blanco in their Bi-District playoff game. Go Mustangs!

The Lady Mustangs will play Blanco in their Bi-District playoff game on Friday, February 12th at Floresville High School. The game will tip off at 6:30 pm. You may purchase tickets online at our website or by using the link below. Tickets will not be sold at the door. Gates will open at 6:00 pm. Come out and support our Lady Mustangs!
https://secure.payk12.com/school/Nixon-Smiley-HS---Revenue/578/item/192533

High School Floral Design students made these wonderful arrangements for the staff! So beautiful! Thank you!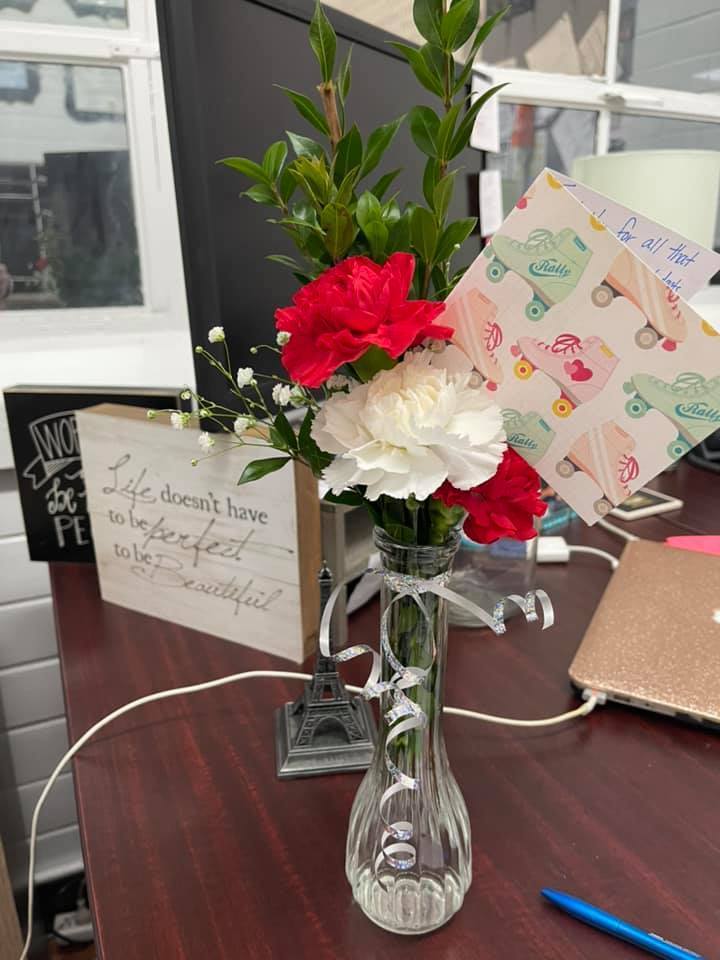 The Lady Mustang wrapped up district play by finishing 3rd with a 7-5 district record. Nixon-Smiley will face Blanco in the first round of the playoffs. Date and Site TBD.



Tuesday night the Nixon-Smiley boys basketball teams traveled to take on the Ro-Hawks from Randolph The JV came up on the short end of a 41- 25 deficit. The Mustangs were led in scoring by freshman Kade Dixon, sophmore Joseph Humphries and sophmore Daylon Perales. Each of them scored 7 points respectively. The game was close throughout, but unfortunately Randolph was able to extend the lead at the end. The Varsity played a hard fought game, but came up short 57 - 46. The Mustangs were led in scoring by senior Zac Perez with 16 points and senior Jesse Riojas with 15 points. Nixon led over Randolph at the end of the 1st quarter 12 - 11. Even though Randolph was able to extend the lead the Mustangs kept coming back and fought to the very end of the game. The next game for the Mustang will be this Friday as Nixon-Smiley will host Stockdale. The JV game will start 5:00, and the Varsity will start around 6:00. #MustangStrong

Last night, the Lady Mustangs hosted the RoHawks from Randolph. The JV squad suffered their first setback in league play. The Varsity squad followed up with a huge 58-27 win over the RoHawks. The victory improved the Lady Mustang's record to 4-2 in district play. The Ladies will travel to Stockdale on Friday with the JV starting at 5:00 and the Varsity to follow. Please come out and support your Lady Mustangs!

Last night our Mustang basketball teams traveled to San Antonio to play Greater Hearts Monte Vista in a district 26 - 3A contest. Our mustangs were victorious in both games. The junior varsity led by Freshman Kade Dixon's 22pts and sophomore Kevin Zavala's 8 won by a score of 51 to 24. The varsity had outstanding performances from several mustangs. It was a total team effort. The Mustangs had 4 players with double figure scoring as well as an outstanding defensive performance from senior Jayden Brassell. The final score was 53 to 42. The Mustangs are 2-1 in district play. The JV is 3-0 in district play. The Mustangs will host Marion on Friday, January 8th. JV will start at 5pm with the varsity to follow. Hope to see you there! Great Job Mustangs!

The following seniors received Academic All-State honors for the 2020 volleyball season: Kiara Andrada Clarissa Campbell Gracelyn Mejia Your dedication to your education does not go unnoticed. Congratulations! Go Lady Mustangs!

The middle school girls basketball games scheduled for Monday, December 14th have been cancelled due to Stockdale dealing with health issues. The Lady Mustangs JV & Varsity basketball games scheduled for Friday, December 18th at Cole High School have been postponed due to health issues at Cole high school.

Attention Nixon-Smiley CISD Families! If you have a child that turned 3 or 4 by September 1, 2020 and he/she is NOT in school, please fill out this survey.
https://forms.gle/q24nLmqG2wYZyFKP9

The Lady Mustangs will play Hallettsville Sacred Heart on Tuesday, December 8th. The JV game has been moved to 4:00 and the Varsity will follow at 5:15 due to Hallettsville Sacred Heart Boys rescheduling their home game. Tickets will be sold at the door.

Tickets for tonight's middle school Lady Mustang basketball game at Randolph can be purchased at ticketspicket.com. Go to ticketspicket.com. Click on buy tickets. Type in Randolph ISD. Select Randolph ISD ( Universal City). Purchase tickets.

Nixon-Smiley CISD will resume face-to-face instruction for all students on Monday, December 7, 2020.